KEYNOTE SPEAKER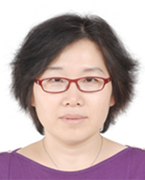 Prof. Hongbing Lu
Fourth Military Medical University, China
Hongbing Lu, Ph.D., professor and director, Faculty of Biomedical Engineering, Fourth Military Medical University. Her research interests cover a spectrum from medical image reconstruction to image analysis for computer-aided detection and diagnosis, including brain network analysis for mental disorder. As the principal investigator of near twenty projects including key projects funded by the National Science Foundation of China, by Ministry of Science and Technology, and by the Military Research Foundation, she has published over 170 research papers including leading journals like Biomaterial, IEEE Trans Med Imag, Euro Radiol, and IEEE Trans Biomed Eng (with single highest citation over 420), holds more than ten US and Chinese licensed patents, and awarded by many prizes including the First Prize of State Science and Technology Award. She is currently the committee chair of the Shaanxi Society of Biomedical Engineering, and has served as an associate editor of IEEE Transactions on Medical Imaging and Medical & Biological Engineering & Computing.
Speech Title: "Towards Quantitative in-vivo Imaging with Cone-beam X-ray Luminescence Computed Tomography (CB-XLCT) "
Abstract: As a molecular imaging tool with high sensitivity, optical imaging has been widely used for in-vivo monitoring of cancer development. However, limit penetration depth of light in tissues makes it difficult to image deep-seated cancer in-vivo. Recently, with the development of X-ray excited nanophosphors, X-ray luminescence computed tomography (XLCT) has shown its potential in imaging deep-seated tissues in-vivo. To achieve quantitative XLCT imaging with high sensitivity and spatial resolution, there are some challenges to be solved, including inaccurate forward model, slow and limited imaging, and inaccurate reconstruction. In this talk, we report some solutions for quantitative and fast cone-beam XLCT imaging.